Aftermath by Rose Eken
New installation in Horsens Art Museums collection, supported by Ny Carlsbergfondet. 
The installation circles around Rose Eken's longstanding interest in popular culture and rock music, and the works frame in different ways the moment just before or just after a concert.  The museum's large exhibition gallery is staged as a  space, frozen in time; The moment after the concert is over – where the musicians have left the stage and the audience has left. Remaining is only the safety fences, beer cans, plastic cups and cigarette butts – all made in ceramics. The works appear immediately palpable and realistic, but at a closer glance, one will find that scale and proportions have undergone a change.
Watch a 3D animation of the installation here. ( and also the rooms from the exhibition 'Afterbeat' by Rose Eken, witch was on show in the fall 2018).
Biography
While working at punk music venues as a teenager in Copenhagen, Rose Eken developed a fascination with concert detritus. The objects she was made to clean up after an event—cigarette butts, drug paraphernalia, beer cans, discarded clothing, and lost cell phones—became emblems of punk rock culture, which she now reproduces in the form of hand-painted ceramic miniatures.
Sculpting objects found in concert halls, kitchens, studios and similarly ubiquitous locations, Eken methodically replicates detritus often placing them very systematic in a grid, suggestive of scientific categorization. Her arrangements and sheer amount of production assume an anthropological quality, documenting and preserving the relics of a culture and celebrating a
history in process. While Eken also produces embroideries, drawings, and sometimes even videos,
she favours clay for its versatility and clumsy form, as shaping and firing warp the object along the way, resulting in unforeseen and unpredictable imperfections.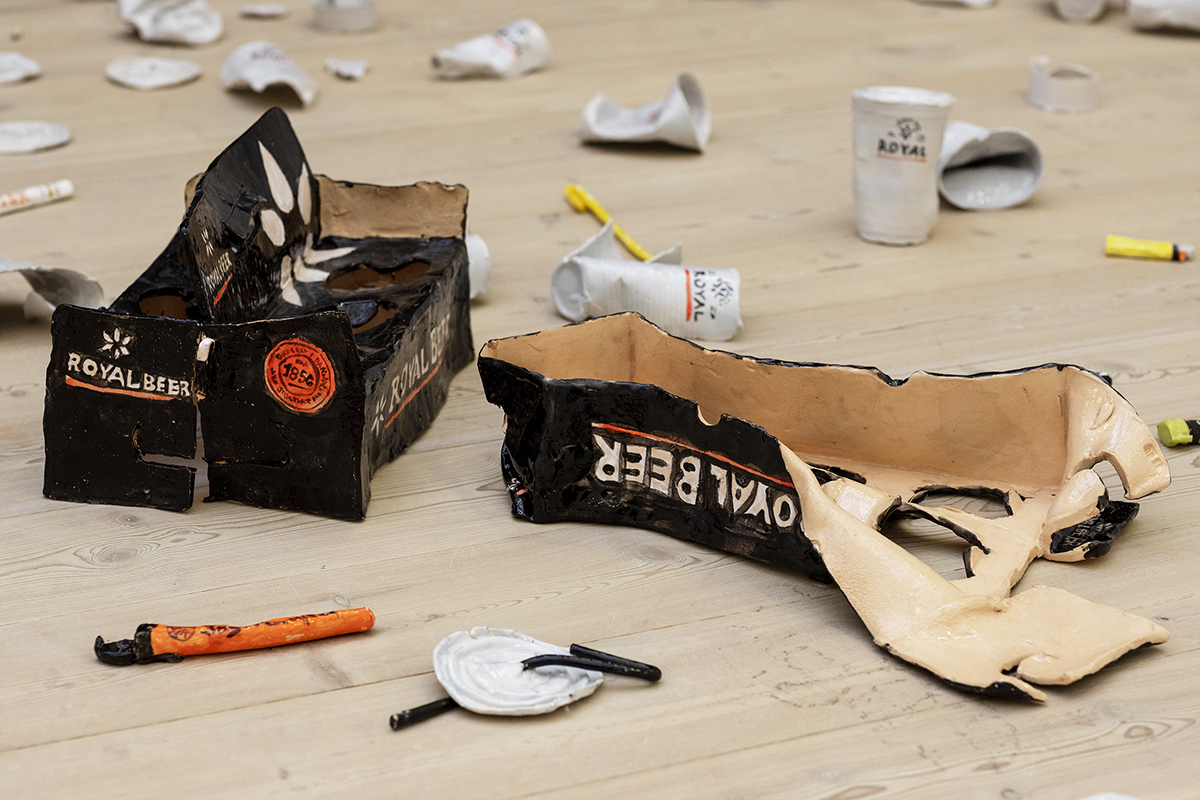 Aftermath 2018 installation by Rose Eken
Michael Kvium – artworks from the collection
Future me, Michael Kvium 1992
The exhibition Michael Kvium shows works from Horsens Kunstmuseums big collection of artworks by the danish artist Michael Kvium(born 1955).
Kvium's works are seeking the corners of our culture and staging the gloomy and macabre, the moral and physical decay. His visual universe deals with the world that we live in and the dark aspects of our existence. His approach is uncompromising, for which reason his works often awake both fascination and disgust.
You can read more about the exhibition here.
Michael Kvium 'Patent' 1987
Works by Lars Nørgård
Horsens Art Museum presents the museum's large collection of works by Lars Nørgård. The Museum acquired the first work for the collection 'Slager' in 1984. Many works have been followed and the museum now has a large collection of Lars Nørgård's painting created in the period 1984 – 2016.
Biography
Lars Nørgård worked from 1977 until 1980 in a photo realistic style. During his studies in USA 1980-81, his paintings changed with an emphasis on abstract expression, especially inspired by the artist, Willem De Kooning. His palette was now "Americanised", with strong, bold and light colours. On his return to Denmark, Lars Nørgård joined his acquaintance, Erik A. Frandsen's experimental art school, "Workshop Worst". Lars Nørgård was a part of this art community, and developed over the next few years a figurative style, more allegorical paintings with the members of Workshop Worst as stage models. From 1986, Lars Nørgård alternated between an abstract expressional style, now with a heavy Nordic colour pallet, and a tight cartoonist figurative style. In 1998, Lars Nørgård decided to stop the pendulum, and chose to gather the threads to create the painting style, that today are characteristic for the artist – an amalgamation of figures and space, a picture devoid of a complete explanation, an energetic expression with both abstract and surreal elements. The surreal elements come from the many, completely over simplified line drawings within Lars Nørgård's parallel production.
Lars Nørgård 'Fairway' 2013