Aftermath by Rose Eken
New installation in Horsens Art Museums collection, supported by Ny Carlsbergfondet. 
The installation circles around Rose Eken's longstanding interest in popular culture and rock music, and the works frame in different ways the moment just before or just after a concert.  The museum's large exhibition gallery is staged as a  space, frozen in time; The moment after the concert is over – where the musicians have left the stage and the audience has left. Remaining is only the safety fences, beer cans, plastic cups and cigarette butts – all made in ceramics. The works appear immediately palpable and realistic, but at a closer glance, one will find that scale and proportions have undergone a change.
Watch a 3D animation of the installation here. ( and also the rooms from the exhibition 'Afterbeat' by Rose Eken, witch was on show in the fall 2018).
Biography
While working at punk music venues as a teenager in Copenhagen, Rose Eken developed a fascination with concert detritus. The objects she was made to clean up after an event—cigarette butts, drug paraphernalia, beer cans, discarded clothing, and lost cell phones—became emblems of punk rock culture, which she now reproduces in the form of hand-painted ceramic miniatures.
Sculpting objects found in concert halls, kitchens, studios and similarly ubiquitous locations, Eken methodically replicates detritus often placing them very systematic in a grid, suggestive of scientific categorization. Her arrangements and sheer amount of production assume an anthropological quality, documenting and preserving the relics of a culture and celebrating a
history in process. While Eken also produces embroideries, drawings, and sometimes even videos,
she favours clay for its versatility and clumsy form, as shaping and firing warp the object along the way, resulting in unforeseen and unpredictable imperfections.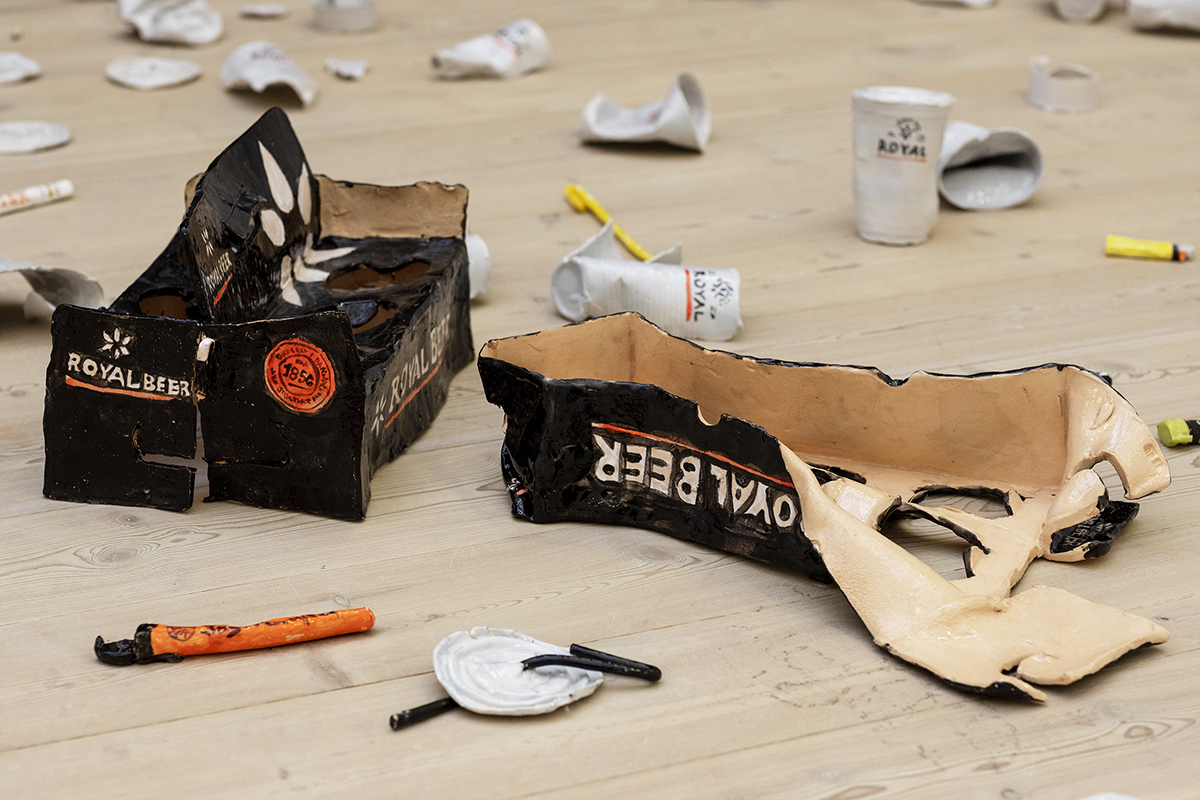 Aftermath 2018 installation by Rose Eken
Katja Bjørn 'Involved', 2017
Katja Bjørn has transformed an entire room into one darkened sculptural video installation. The artwork 'Involved' displays a group of naked people, moving around sculptural items, in which their movements are partly lit by flashlights. 'Involved' focuses on the beauty and value in involvement and movement; both symbolic in life but also at a physical bodily level.
Katja Bjørns art has during the last decade centered itself around man, and through video art as a medium she portrays stories, which seem existentially in connection with society and culture around us. Katja Bjørns art lies in a crossfield between body, nature and culture, wherein the fundamentally bodily and object-related every daylike is shown through virtual pictures and sculptural materiality.
As art mediums video installation and sculpture creates an expressive platform for presenting the human body in ways, which might challenge stereotypical and beautified perceptions of especially the female body. Katja Bjørn removes the body of its normative constraints, and lets it unfold in all its wild nakedness, straightforwardness and indispensable humanity.
The video installation highlights movement and involvement; that in which to move oneself or something, even though it might not have a particular purpose, then the focus has a special value, which is worth considering as a viewer. Life is movement; it is not a journey from A to B, but a continuous interpretation of our being and the way we exist, both in everyday life and in the nature of life as one big movement.
The title of the artwork "Involved" refers to the act of involvement, to engage yourself in life continuous movement. The purpose of movement is to bring us forward in life, both on a psychical and bodily level, but also on a conceptual level, where involvement to your life can create value as a human being. 'Invovled' highlights this 'involving-yourself' or 'moving-yourself' and the inherent beauty and particular aesthetic by moving oneself, someone or something, whether it has a purpose or not.
We perceive both the value of the involvement, which reveals the physical foundation of movement, but also the everyday push and the nature of life, which means that we as humans must move, whether it is forward or backwards in life. The movement is only visible to us as experiential moments when we become aware of our actions and our involvement in life.
Katja Bjørn 'Involved', 2017. Video installation, 22 min. in duration in loop with sound, HD.
PICNIC Morten Buch at Horsens Art Museum
In 53 works Morten Buch explores the subject 'PICNIC', as a reference to the classic motif "Lunch in the green". Central to the exhibition are 44 new Monotypes – a special form of graphic printing, where only a single unique print is made.
Morten Buch (b. 1970) is primarily known as a painter. Despite this, he also has broad experience with graphics and in this exhibition the print is absolutely central. In the exhibition 'PICNIC', Morten Buch has with great curiosity, plunged himself into the special printing technique called Monotype. The special thing about it is that unlike other printing techniques, such as lithography, linoleum or woodcuts, no reprinting is required. The print is MONO – There is one single tap. In this way, it has common features with painting and graphics. A total of 44 monotypes have been printed at the workshop of Hostrup-Pedersen & Johansen in Valby, Copenhagen. In this exhibition they are complemented by sculptures and a large painting, all of which revolve around Morten Buch's fascination: An exploration of the classic motif "Lunch in the green". Best known by Édouard Manet's famous 1863 work of the same name. By Morten Buch, "PICNIC" is a modern version in both title, form and content.
Morten Buch's style is figurative, but the form is free and approaches abstract places. But that is not a strategy according to Morten Buch himself. For him it must be figurative and resemble something – even though many of the works are created free from imagination. As he mentions in the catalog for the exhibition: "I have to have things to be able to change".In the works several motives repeats. An eggplant, a pair of high heels, a woman's body, creates a meeting between nature and the human being, which is processed as flat shapes. Some of the motives suggest something erotic, others something common place from the artist's studio, but always in a very bodily and sensual universe.
The exhibition has been created in a collaboration between Kastrupgårdssamlingen, Graphic Workshop Hostrup-Pedersen & Johansen and Horsens Art Museum. The exhibition was presented at Kastrupgårdssamlingen in the autumn of 2018. The exhibition features a richly illustrated catalog of texts by art historian Magnus Thorø Clausen.
The exhibition is generously supported by: Beckett Fonden, Grosserer L. F. Foghts Fond, Aage & Johanne Louis-Hansen's Fond and Gottfred and Gerda Eickhoff's Fond.
Monotype by Morten Buch 2018
Michael Kvium – artworks from the collection
The Danish artist Michael Kvium is an important part of the Horsens Art Museum's collection. The museum has followed and supported Michael Kvium's artistic career since his breakthrough in the mid-1980s. This means that the museum today has the country's largest collection of Michael Kvium's works of art, which span widely over painting, drawing, graphics and sculpture created in the years 1985 – 2014.
In the painting "One of Those Days, Days", nature and man are once again the artistic starting point. The work consists of three paintings that are put together into one artwork. In the painting on the left is a landscape motif with birch trees. The low-profile perspective on this side gives a dizzying feeling of looking up and contributes to the thin birch trees appearing monumental and overwhelming for the viewer. The color scheme is pastel in the form of bright broken colors. However, in spite of the bright colors, the sky appears gloomy and dark in the form of the dark purple clouds, warning of a threatening storm.
The painting on the right, on the other hand, is seen from a normal perspective where a backward-looking man figure appears in front of a black background. From his trouser pocket hangs a cloth with paint stains, which is particularly noticeable by being painted on his own small canvas, which hangs below the large painting. The cloth acts as a prop that points out that the man is an artist in his workwear. It therefore seems obvious to consider the man as an depiction of the artist Michael Kvium himself.
Michael Kvium 'One of Those Days, Days' 2014
Works by Lars Nørgård
Horsens Art Museum presents the museum's large collection of works by Lars Nørgård. The Museum acquired the first work for the collection 'Slager' in 1984. Many works have been followed and the museum now has a large collection of Lars Nørgård's painting created in the period 1984 – 2016.
Biography
Lars Nørgård worked from 1977 until 1980 in a photo realistic style. During his studies in USA 1980-81, his paintings changed with an emphasis on abstract expression, especially inspired by the artist, Willem De Kooning. His palette was now "Americanised", with strong, bold and light colours. On his return to Denmark, Lars Nørgård joined his acquaintance, Erik A. Frandsen's experimental art school, "Workshop Worst". Lars Nørgård was a part of this art community, and developed over the next few years a figurative style, more allegorical paintings with the members of Workshop Worst as stage models. From 1986, Lars Nørgård alternated between an abstract expressional style, now with a heavy Nordic colour pallet, and a tight cartoonist figurative style. In 1998, Lars Nørgård decided to stop the pendulum, and chose to gather the threads to create the painting style, that today are characteristic for the artist – an amalgamation of figures and space, a picture devoid of a complete explanation, an energetic expression with both abstract and surreal elements. The surreal elements come from the many, completely over simplified line drawings within Lars Nørgård's parallel production.
Lars Nørgård 'Fairway' 2013