Afterbeat by Rose Eken
September 15, 2018 – January 13, 2019.
The exhibition circles around Rose Eken's longstanding interest in popular culture and rock music, and the works frame in different ways the moment just before or just after a concert. The museum's three rooms form the frame for a story about the concert; about the musician and the audience. In the first room we meet a new series of glass paintings that represent music fans in different ways, through the way they cultivate their idols, for example by by embroidering their jackets or backpacks with patches featuring  band names. The museum's large exhibition gallery is staged as a  space, frozen in time; The moment after the concert is over – where the musicians have left the stage and the audience has left. Remaining is only the safety fences, beer cans, plastic cups and cigarette butts – all made in ceramics. The works appear immediately palpable and realistic, but at a closer glance, one will find that scale and proportions have undergone a change.
Read more about the exhibition here.
The exhibition is supported by the Statens Kunstfond, Grosserer  L. F. Foghts Fond, Familien Hede-Nielsens Fond, Beckett Fonden og Billedhugger Gerhard Hennings Legat.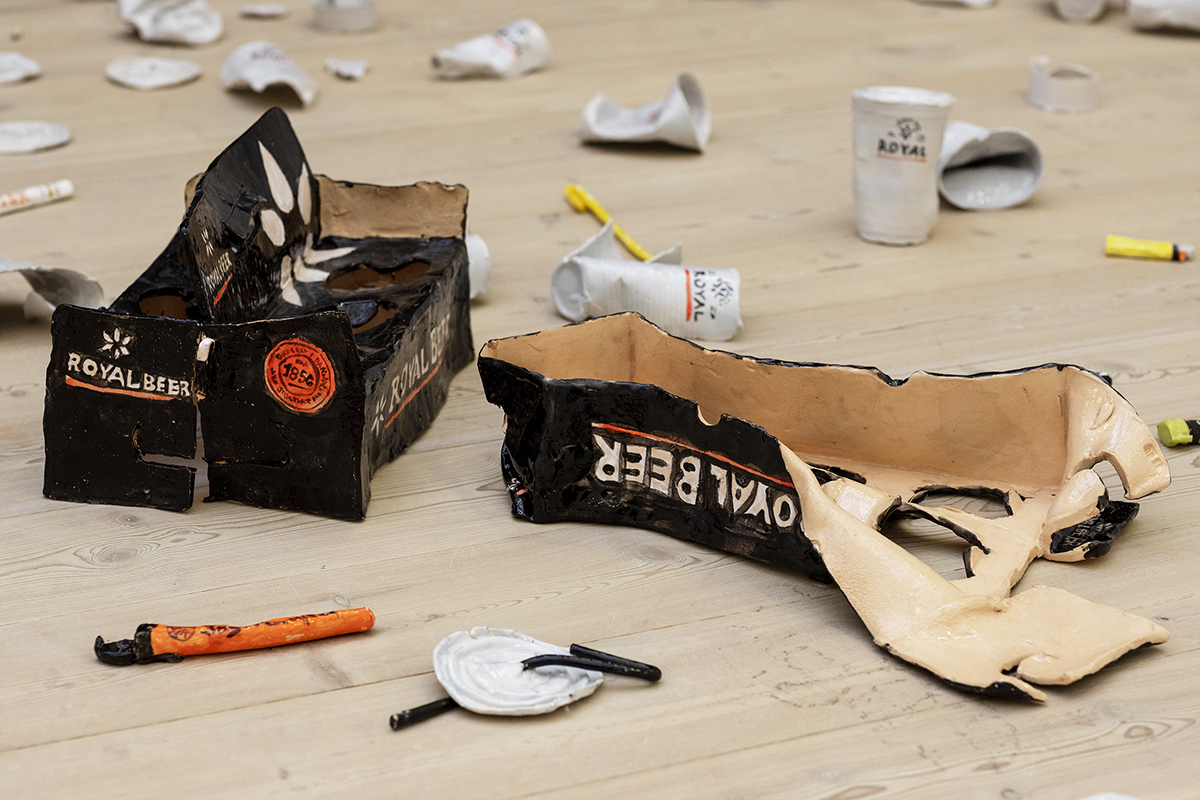 Aftermath 2018 installation by Rose Eken
The Shape of US by Mille Kalsmose
November 3, 2018 – January 20, 2019
Mille Kalsmose is interested in the relationship between material and human.  She "gives body" to our inner processes and insists on the inherent qualities of objects. Through her art, Mille Kalsmose sees how everything vibrates and exists, in other words, individual and object are not each other's opposites.
With the exhibition, she investigates the themes: the relation to 'the other', identity creation and materials.
Before the exhibition at Horsens Art Museum, Mille Kalsmose created a location-specific installation in KUBEN  onSøndergade in Horsens. The installation is now exhibited at Horsens Art Museum.
The exhibition is supported by: MÆRK BYEN, Beckett-Fonden, Champion Iron Statens Kunstfond, Brdr. Funder Stukkatører og Statens Værksteder for Kunst (SVFK).
Michael Kvium – artworks from the collection
Future me, Michael Kvium 1992
The exhibition Michael Kvium shows works from Horsens Kunstmuseums big collection of artworks by the danish artist Michael Kvium(born 1955).
Kvium's works are seeking the corners of our culture and staging the gloomy and macabre, the moral and physical decay. His visual universe deals with the world that we live in and the dark aspects of our existence. His approach is uncompromising, for which reason his works often awake both fascination and disgust.
You can read more about the exhibition here.