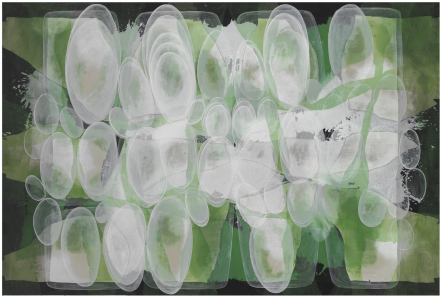 Summer exhibition 2018 (ENG version)
This year's summer exhibition is dedicated to works from the museum's collection of contemporary art.
At the gallery at the ground floor we present works by the international artists: Jiri Georg Dokoupil, Olav Christopher Jenssen, Ola Billgren, Ian McKeever and Marijke Van Warmerdam. Read more.
On the first floor we are showing two solo presentations by Tina Maria Nielsen with the installation 'Salon de Refuses' (2016)( Read more.)  and Emil Westman Hertz with his installation 'The Prince´s Garden' (2014). Read more.
Our presentation of Michael Kvium is expanded so that it is not only on show in The Kvium Gallery, but it is also possible to experience works by Michael Kvium in the museums largest gallery on the first floor. Read more.
Horsens Art Museums newest acquisitions is also presented with a focus on a major donation from Ny Carlsbergfondet with a series of works by Peter Holst Henckel and Martin Erik Andersen, as well as the newest acquisitions by Lars Nørgård, Lea Guldditte Hestelund, Rose Eken, Ian McKeever and Ib Braase. Read more.
The museums project room features Maria Wandels exhibition 'secrets everywhere', and in the old part of the museum it is possible to experience works by Asger Jorn, Maar Julius Lange, Mogens Zieler and sculptures by Tove Storch.